Executive Chauffeur Service in Surrey
For a 'Surrey Chauffeur Service', here at XLNC Cars, we pride ourselves on being executive chauffeurs in Surrey. As a local chauffeur company, we put our customers first and cover both personal, business and executive travel. Our chauffeurs for hire can provide you with transportation to and from a destination of your choice; ensuring your arrival/are collected on time.
Whenever we provide professional travel services, we'll do our best to ensure your journey is as comfortable and stress free as possible. We offer chauffeur hire in and around the Surrey area and aim to accommodate all of our customers requests. You can also check out our luxury fleet of vehicles online, choose from our range of prestige cars, which come with our experienced drivers.
We have years of experience in the chauffeuring industry and are well-known for the service we provide. If you're looking for a local Surrey chauffeur, or a
Brookwood taxi service, or even a wedding chauffeur service, then be sure to get in touch with us today for a free no obligation quote.
Our Chauffeur Services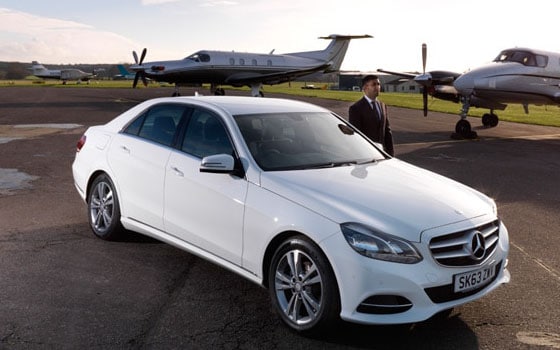 We offer a vast range of chauffeur services to our customers in and around the Surrey area. Whether it's personal or business travel we have you covered pay per click. All our customers receive the same great service and you're guaranteed to be impressed with the service you receive. Some of the most popular chauffeur services we offer are:
Private Tours

Personal Travel

Air/Seaport Services

Business Travel

Shopping Trips
These are just a few of the most popular reasons people choose to use us as chauffeurs. For more information on the chauffeuring services we offer or if you'd like to book with XLNC Cars then be sure to contact us today. One of our team is always on hand to assist.
Professional Chauffeur Drivers and Executive Cars
We have a team of professional chauffeur drivers who have years of combined industry experience between them. Over these years our chauffeurs have honed and developed the skills and knowledge needed to provide one of the best chauffeur for hire services in the area. Our drivers are presentable and will always be dressed smart to ensure our passengers receive a professional service.
Driver For A Day Chauffeur Hire
Many people just need a driver for a day and a chauffeur could be the perfect solution. Whether it's a trip to the airport, a meeting you need to attend or even just a day out, our driver for a day chauffeur service will ensure you travel in both luxury and comfort whilst travelling with us. We will openly admit we aren't always the cheapest chauffeurs but what we do offer is highly competitive and affordable prices for one of the 'best chauffeur services Surrey'.
Why Choose Us As Chauffeurs in Surrey?
As one of the top chauffeurs in Surrey, we can provide an extensive range of travel services to both individuals and businesses across the area. We offer first class customer service and will do our best to ensure your chauffeur ride is as stress free as possible. Having listened to our customers feedback, we believe some of the reasons you should choose us as Surrey chauffeurs are:
Years of experience in the industry

We offer a range of chauffeuring services

Highly competitive prices

A range of chauffeur cars to choose from

Team of professional and private chauffeurs
XLNC Cars – Local Surrey Chauffeur Company
Searching for chauffeurs near me in Surrey? Then XLNC Cars can provide you with a first class and 'stress free personal chauffeur service Surrey'. We have a team of fully trained and highly professional chauffeurs who can provide a wide range of transportation services. As one of the leading chauffeur companies in the area, we always go the extra mile for our customers and provide both personal and business travel, as well as a great executive car range. If you're wanting to hire a chauffeur in Surrey, then be sure to get in touch with us today. We also provide our services across Woking.
Chauffeur Surrey - Frequently Asked Questions
What is a chauffeur?
A chauffeur is a professional driver whose job is to transport people to and from a particular location. You might think it's similar to a taxi driver, however the two roles are completely different. Experienced chauffeurs are well presented and tend to drive a higher class of vehicle. The drivers can be hired for both short and long journeys and will aim to take care of your every need during the journey.
How much does a chauffeur cost?
The cost of hiring a chauffeur will depend on a number of factors such as the vehicle you choose, the length of your journey and type of chauffeuring service you require. At XLNC Cars, we don't offer a cheap chauffeur service, but what we do offer is a first class service at a fantastic price. Just get in touch with us today for a free no obligation quote.
What do chauffeurs wear?
At XLNC Cars, all our chauffeurs are well presented and typically wear trousers and a shirt. On some occasions our licensed chauffeurs will wear a full suit, however this can change depending on the time of year. Rest assured though, all of our chauffeur drivers will arrive in a smart outfit.
How to hire a chauffeur?
If you've been looking for a chauffeur service near me and are based in or around the Surrey area, then all you need to do is get in touch by phone or email and one of our team will be happy to assist you. Alternatively fill in our contact form with your details and one of our team will get back in touch with you as soon as possible to discuss your requirements.
What does a chauffeur do?
It's a chauffeur's job to ensure a passenger arrives safely and in a timely manner to a destination of their choice. Our chauffeur car drivers cover a wide range of professional services such as airport transfers (London City, London Heathrow), personal trips and much more. No matter what your reason for needing a professional chauffeur might be, be sure to contact us today.