24/7 Airport Transfers in Guildford
At XLNC Cars, we offer 24/7 airport transfers in Guildford and across the surrounding areas. Our luxury airport transfers and chauffeur service allow you to travel in both style and comfort and we ensure all our customers arrive with plenty of time to spare. It's our aim to take the stress away from you and make your journey as hassle free as possible.
We have a selection of vehicles to choose from and have something to suit all personal tastes and requirements. Working with you from start to finish, we'll ensure all of your needs are met and it's our aim to not only meet but exceed the expectations that you might have.
We are well-known across Guildford for the airport taxi service we offer and are regularly the first port of call for many individuals and businesses. If you're based in Guildford or any of the surrounding areas and are in need of an airport transfer then be sure to get in touch with us today or check out our online booking form, one of our team is always on hand to assist.
At XLNC Cars we understand the importance of reaching the airport well in advance, located locally in Guildford, we provide a competitively priced airport transfer. We cover all UK airports including the major London airports and can assist with a number of arrangements to ensure you receive an airport transfer to the highest standard. To avoid unnecessary delays, vehicles at XLNC Cars include GPS tracking and flight tracking technology, enabling us to monitor flight departure and arrival times in real time, as well as select the most suitable route for your journey, to and from the airport. Leaving you with one less thing to worry about and being able to look forward to your trip. 
Guildford Airport Transfers - Frequently Asked Questions
Contact the best in the business
With a management team having over thirty years travel expertise and a dedicated team of experienced chauffeurs – all professionally trained, fully vetted and CRB checked – we promise to provide you the best service available catering for all your specific demands and requirements.
Pre Book Your Guildford Airport Taxi
If you're needing a Guildford airport taxi then it's best to pre book to avoid any disappointment or delay. Our pre booking service means we can arrange the right time to collect you and plan the best and fastest route to take. We keep up to date with traffic and road incidents to help avoid any traffic queues and delays.
Booking an airport transfer is easy and all you need to do is phone, email or fill in our contact form. With years of experience in the industry, we have the skills and knowledge needed to provide one of the best airport transfer services. Whether it's business or personal travel, we have you covered.
Our Airport Transfer Service
We offer one of the best private transfers to and from major airports across the UK including Gatwick Airport, Stansted Airport and Birmingham Airport. With both personal use and business use airport car hire available, our knowledgeable drivers will take you to the airport of your choosing in good time, meaning all you need to worry about is enjoying your holiday destination. Some of the most popular private car hire services we offer are:
Reliable cab to airport service

Meet and greet service

Business transfers

Personal airport chauffeuring

Business taxi to airport service
Whether it's a holiday or business travel, with our airport taxi service, we'll ensure you are collected in good time and arrive on time at the airport too. For more information on our taxi airport transfers please don't hesitate to get in touch with us, one of our team is always on hand to assist.
British Airport Transfers
We cover all major UK airports including Heathrow Airport and Luton Airport, and offer a dedicated and reliable airport transfer service. As one of the leading companies in Guildford providing this service, you can count on us and our team of drivers to ensure your holiday is great and the journey runs smoothly. Whether it's for business or personal use, you'll receive the same first class service. We aim to make all journeys as hassle free and stress free as possible.
Reliable Airport Taxi Transfers
We understand how stressful planning a holiday or business trip can be and the last thing you need to be worrying about is transport and that's where we come in. With our airport transfers we can provide you with flexible and comfortable transportation that meets your exact requirements. If you want to book airport transfers in Guildford or any of the surrounding areas then be sure to get in touch with us today.
Airport Cars Guildford – Reasons To Choose Us
For a number of years we have been offering reliable airport cars in Guildford, covering both a drop off and collection service. We provide some of the best airport taxis in the areas and regularly work with both individuals, families and businesses across Guildford. We have listened to some of the feedback from our previous customers and believe some of the reasons you should choose us are:
Years of experience in the industry

Team of professional drivers

Established Airport taxi company in Guildford

Well-known across the local area

Offer airport transfers to and from Guildford
For Luxury Airport Transfers in Guildford Contact XLNC Cars
On the hunt for an airport taxi service near me? At XLNC Cars, we provide professional and reliable airport transfers and have years of experience in the industry. We fully understand what our customers are looking for when it comes to airport transfers and that's one of the reasons we do everything we can to make it as hassle free as possible. If you're in need of a Guildford airport transfer, then be sure to get in touch with us today for a free quote.
We also provide Wedding Cars in Guildford.
Standard Saloon – Passat or Equivalent
The saloon is a great choice and by far our most popular. You'll be driven in a modern vehicle which can carry up to 4 passengers and moderate amount of luggage.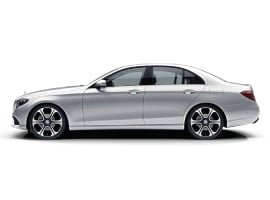 Executive – Mercedes E-Class or Equivalent
The executive vehicle is a great choice if you want to be driven in luxury and comfort. Popular with business clients and individuals you'll be driven in our prestige Mercedes vehicles.
VIP – Mercedes S Class or Equivalent
Our VIP vehicles are a great choice for those choosing to be chauffeured with style. Our VIP vehicles come in more prestigious vehicle range such as the Mercedes S-Class.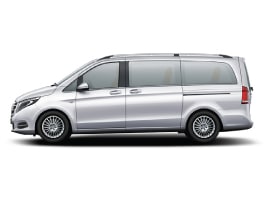 Minibus V-Class or Equivalent
The Large MPV is an exquisite example of how beautiful all chauffeur cars should be. 1st class standard specification with plenty of leg space and heights of comfort, technology, style and safety.