When it comes to wedding chauffeurs, here at XLNC Cars, we have been providing luxury wedding car hire and chauffeuring for many years now. Our chauffeur-driven wedding cars offer the perfect transportation for any special day and we pride ourselves on offering luxury and modern wedding cars at affordable prices. With all cars cleaned thoroughly before use and a team of professional drivers, there's simply no reason not to choose us.
Whether you've thought about hiring a private wedding chauffeur before or not, here we help you with our top tips on how to hire the best wedding chauffeur and car service.
Professional Wedding Chauffeurs
A wedding chauffeur is a professional driver who has been hired to transport the bride, groom, and wedding party in a luxury vehicle on the day of their wedding. The wedding chauffeur will be responsible for ensuring that the transportation runs smoothly, on time and that the couple arrives at their wedding venue and reception in style and comfort. They are also responsible for maintaining the vehicle's cleanliness and ensuring that it is decorated appropriately for the occasion. In addition to driving the couple, a wedding chauffeur may also be responsible for shuttling guests, transporting family members, and managing the logistics of the wedding transportation.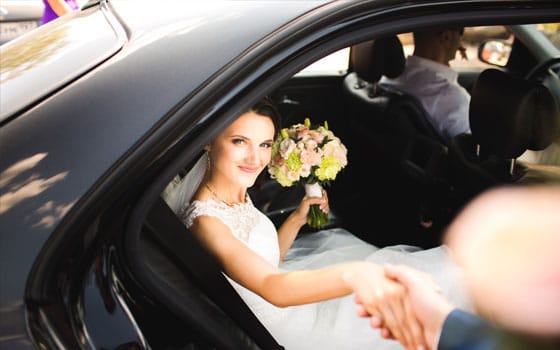 When choosing a wedding chauffeur, there are several important factors to consider. Here are some key things to keep in mind:
Reputation and Reviews: Look for a wedding chauffeur service that has a good reputation and positive reviews from past clients. You can check reviews online or ask for references.
Experience: Choose a wedding chauffeur with experience in handling wedding transportation. They should be familiar with the wedding schedule and be able to anticipate any potential issues that may arise.
Type of vehicle: Consider the type of vehicle that you want for your wedding. Do you want a classic car or a modern luxury vehicle? Make sure the chauffeur service has the type of vehicle you prefer.
Availability: Check to make sure the wedding chauffeur service is available on your wedding date and can accommodate your transportation needs.
Price: Consider the cost of the wedding chauffeur service and make sure it fits within your budget. Ask about any additional fees, such as gratuity or fuel charges.
Professionalism: Look for a wedding chauffeur service that is professional and courteous. The chauffeur should be well-groomed and dressed appropriately for the occasion.
Safety: Make sure the wedding chauffeur service has a good safety record and that the vehicles are well-maintained and inspected regularly.
Customisation: Some wedding chauffeur services offer customisation options such as decor, music, and refreshments. If you're interested in these options, ask about them and ensure they're available and meet your preferences.
Coordination: Make sure the wedding chauffeur service is willing to coordinate with your wedding planner or venue coordinator to ensure a seamless transportation experience.
Contracts and Insurance: Ask the wedding chauffeur service if they provide a contract that outlines the services to be provided, the cost, and any cancellation policies. It is also important to make sure the service has adequate insurance coverage to protect you and your guests in case of an accident.
Communication: Ensure that the wedding chauffeur service is easy to communicate with and is responsive to your questions and concerns. This will ensure that you have a stress-free experience on your wedding day.
Referrals: Ask friends, family, and colleagues who have recently had weddings for referrals. They may have had personal experience with a professional chauffeur service and can provide honest feedback.
Choosing the right wedding chauffeur service is important to ensure a smooth and luxurious transportation experience on your wedding day. By considering these factors, you can choose a service that meets your needs and provides you with peace of mind.
Book XLNC Cars for your Wedding Chauffeur Services
We have been offering wedding car hire in the local and surrounding areas for many years. As one of the leading wedding companies in the area, you can count on us to provide both luxury and reliable transportation for weddings. We have many wedding car photos from successful ceremonies we've been a part of.
Should you be looking for 'wedding cars near me' then be sure to get in touch with us today. We offer a range of modern wedding vehicles, which are perfect for any special couple and they also offer a great photo opportunity too. We understand how stressful wedding ceremonies can be and that's why we always go the extra mile to ensure your big day runs as smoothly as possible. For more information or to book your wedding car hire, then be sure to get in touch with us today.